470W High-Voltage Low-Current Solar Panels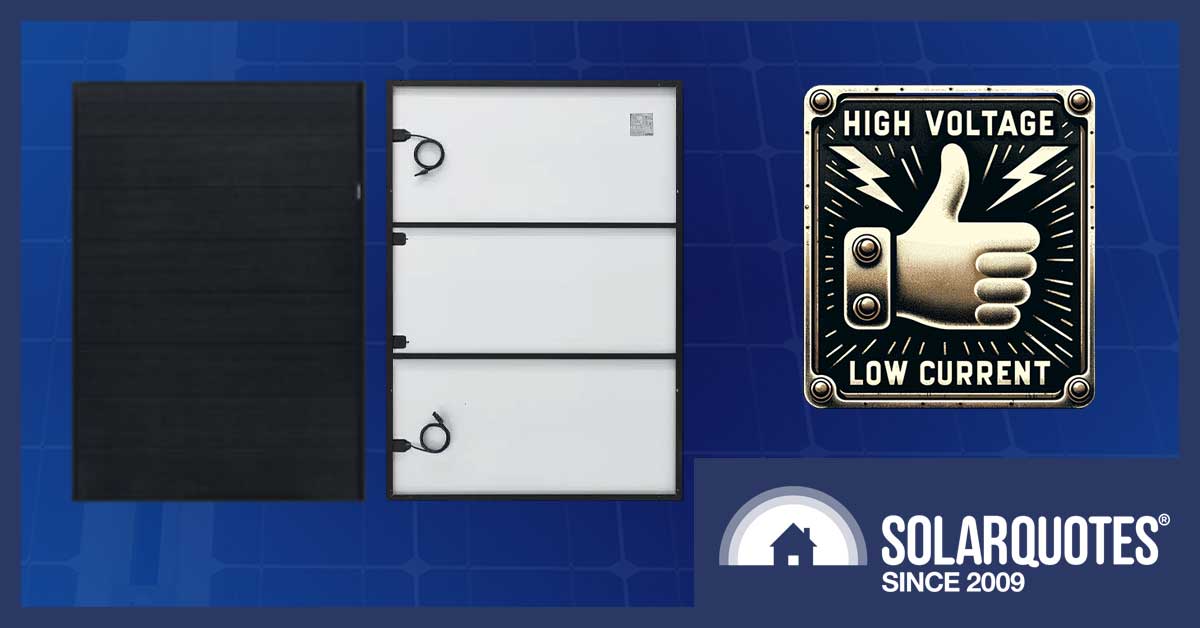 Prominent Singapore-headquartered PV module manufacturer REC has dropped the specifications of its latest line of residential solar panels, the REC Alpha Pure-RX Series. The "pure" part of this name refers to the panels being lead-free.
Using heterojunction cell technology (HJT), these modules represent yet another significant step in residential solar power. Beyond the marketing spin, the real issue? Installers grappling with bigger, bulkier panels.
While they're similar in height to many other residential solar panels, they're wider. For instance, Jinko has a 440w panel measuring 1722 x 1134 mm, while many others offer 415w for that size. The new REC panels, however, are 1728mm tall and 1205mm wide, making them broader than a standard sheet of gyprock. It's good to see that they're also stating the size as 2.08m², a detail more manufacturers should include.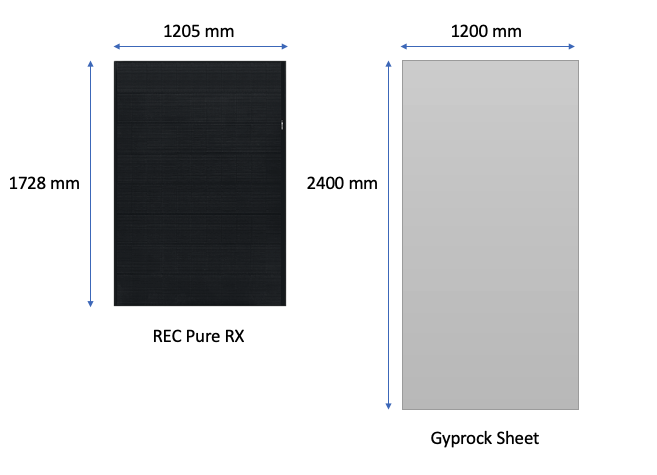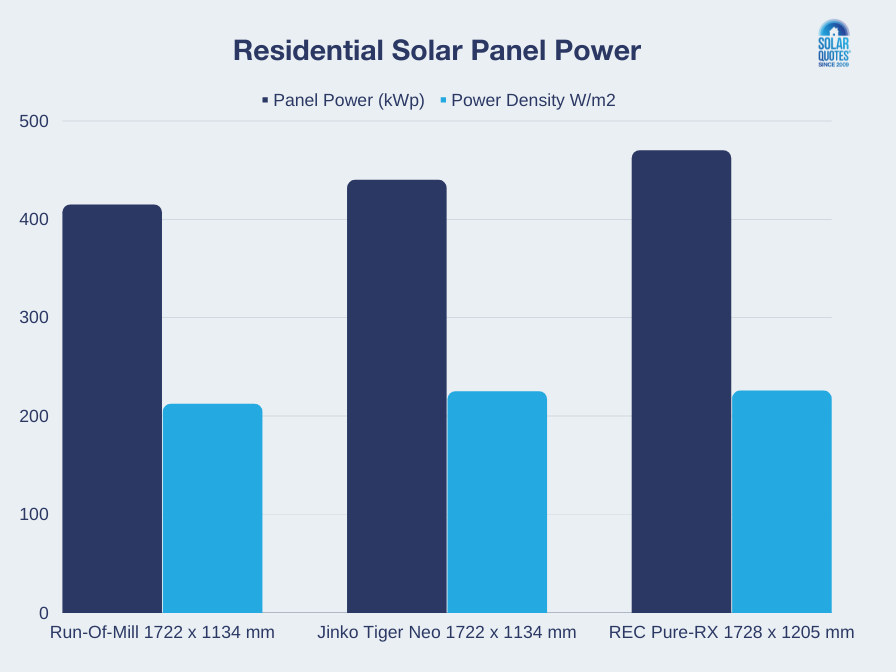 Run of the mill is now 212.52W/m²
Jinko Tiger Neo is 225.32W/m²
REC Pure-RX is 225.96W/m²
So, roughly speaking, the headline is 7% or 30 watts more per panel, but it's only a tiny fraction better in actual efficiency when you compare the power density.
REC Alpha Pure-RX Series Specifications:
Power ratings ranging from 450 W to 470 W
Impressive efficiencies, ranging from 21.6% to 22.6%.
88 heterojunction, half-cut monocrystalline solar cells,
High output voltage, low current
Four bypass diodes, meaning 11 of the 88 cells can be bypassed at a time, helping maintain power when shaded.
Sturdy build: Each module weighs approximately 23 kg, but REC have two reinforcement bars across the back, which helps with strength, wind loading and cable management. I would buy them on that point alone.
Temperature resilience: With an operating temperature coefficient of -0.24% per ºC, these modules remain efficient even in high summer heat.
Finn explains temperature resilience of solar panels here:
Warranty Assurance:
REC ProTrust Warranty if using a REC certified installer: This extends coverage for up to 25 years, encompassing product, performance, and labour. Notably, it ensures a guaranteed power output of at least 92%, even in the 25th year.
REC ALPHA PURE-RX SOLAR PANEL TECHNICAL SPECIFICATIONS
Cell type:
88 half-cut REC heterojunction cells with lead-free, gapless technology
Glass:
3.2 mm solar glass with anti-reflective surface treatment in accordance with EN12150
Backsheet:
Highly resistant polymer
Frame:
Anodized aluminum (black)
Junction box:
4-part, 4-bypass diodes, lead-free IP68 rated, in accordance with IEC 62790
Connectors:
Stäubli MC4 PV-KBT4/KST4(4 mm²) in accordance with IEC 62852, IP68 only when connected
Cable:
4 mm² solar cable, 1.7 + 1.7 m in accordance with EN50618
Dimensions:
1728 x 1205 x 30 mm (2.08 m²)
Weight:
23.2 kg
Origin:
Made in Singapore
The Real REC Alpha Pure-RX Difference
Let's delve into the critical specifications rather than inundating you with sales rhetoric. You'll have to excuse me while I go into some nerdy details that installers will be joyfully clutching pearls about.
Voltage and Current
These panels operate at a relatively high voltage  ( ~65 VOC) and a relatively low current (~9A ISC). Why this offers advantages in Australia warrants its own forthcoming blog post. But here's a brief rundown on how it simplifies the solar installer/designer's job:
Join thousands receiving the latest solar, battery and EV news and views from SolarQuotes!
High Voltage is a significant advantage over the recent flood of low-voltage, high-current 108 half-cell panels on the market. While modern inverters are very flexible, they always work better with a higher input voltage.
Low currents mean these modules will be perfectly suited to microinverters like the Enphase IQ7A, where many 108 half-cell panels simply aren't compatible.
Higher voltage and lower current also means the potential to be more flexibly deployed in short parallel strings on conventional inverters. That's handy for dealing with Australia's love affair with complex roofs.
A full datasheet for REC Alpha Pure-RX solar panels can be viewed here.
Finally, We Have A Contender
Solar panels have been growing in both physical width and current output for a long time, while inverter makers have not kept up. Rather, they have been muddling along. In jurisdictions like Australia, they have been forced to make special declarations that they really can handle all that current.
We have what some would argue is an overly conservative standard, which has been met with some hastily written paperwork saying, "yeah it's fine."
This new REC Alpha Pure-RX solar panel puts things right by taking the growth in panel capacity and turning it into voltage instead of current.
All we need now is for AS4777 to catch up so we can put up to 1000V DC on your residential roof.
REC solar panels have been popular among Australian installers. In this year's SolarQuotes' Installers Choice Awards, REC scored gold in the best solar panels in 2023 category; and also gold for the best after-sales support.
Related