Alltrade Using FLEXRACK by Qcells Equipment for Alberta Solar Projects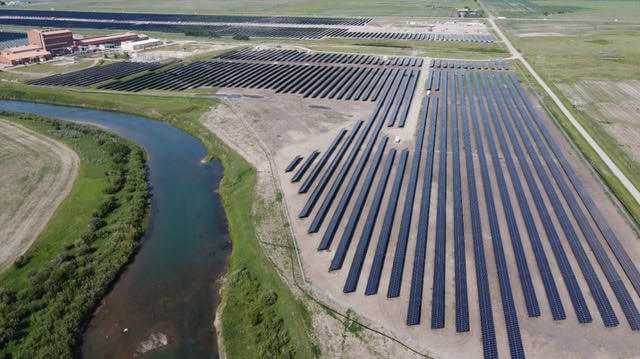 FLEXRACK by Qcells and Alltrade Industrial Contractors Inc., a Canadian renewable EPC and construction services company, have partnered on a 182 MW portfolio of solar projects in Canada.
The portfolio consists of two fixed-tilt, bifacial solar panel projects that are located in Scotford and Aldersyde, Alberta.
Once complete, the 81 MW Scotford project will be the largest behind-the-meter solar project in Canada.
Additionally, the 101 MW Saddlebrook project includes the future addition of a flow battery energy storage system, which is one of the first of its kind in North America.
The projects are currently under construction.
"We first partnered with FLEXRACK on several projects in Ontario 12 years ago, and we have always appreciated their ability to not only provide high-quality mounting technology but also timely and thorough engineering expertise," says Kevin Ritzmann, senior director at Alltrade.
The Saddlebrook project will be owned and operated by one of North America's leading energy infrastructure companies, with operations in natural gas, oil and power industries. Once complete, the electricity produced by the project will feed into the Alberta Interconnected Electric System through a new 138 kV substation. Alltrade is constructing the Saddlebrook Solar Project in a joint venture partnership with SkyFire Energy Inc.
The Scotford project will power a global oil producer's refinery complex to support the company in achieving its goal of net-zero emissions by 2050. Located in Alberta's industrial heartland, the project will be the first large-scale solar installation in the region.
"We are excited to be able to work alongside our longtime partners at Alltrade in Canada again to both support fossil fuel companies in reducing their greenhouse gas emissions as well as deliver more renewable energy to local communities," says Ken Mack, head of FLEXRACK by Qcells.