US Foods Makes Energy Transition with truCurrent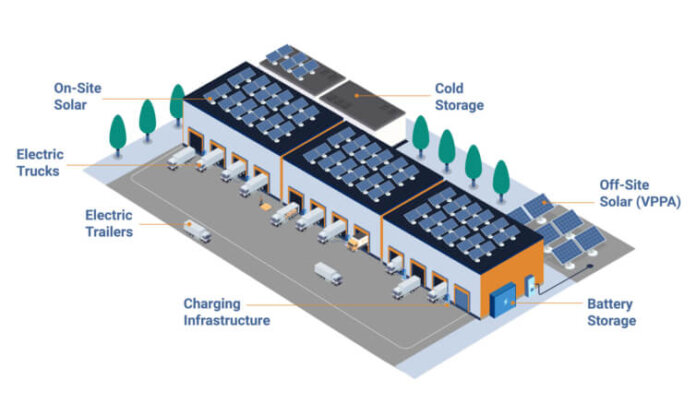 US Foods, one of the largest foodservice distributors in the United States, has chosen truCurrent, a subsidiary of Distributed Sun (DSUN), to support the company's energy transition efforts such as fleet electrification, virtual power plant design considerations and other solutions to accelerate decarbonization efforts. DSUN is a developer, investor, owner and operator of solar and distributed energy resources nationwide.
As a corporate-wide energy advisor to US Foods, truCurrent will develop and sponsor projects approved by US Foods on a portfolio and individual site level basis to support its nationwide energy transition efforts, including integration and implementation services. Benefits will extend from lower total cost of ownership for US Foods to the communities and environments where it operates today – including major facilities in more than 60 different rate territories.
TruCurrent brings 15 years of new, clean energy business, technology and finance innovations to US Foods, combining intelligent decision-making tools and development practices at the grid edge to help the company achieve its goal to reduce absolute Scope 1 and 2 greenhouse gas (GHG) emissions by 32.5% by 2032 from a 2019 base year. TruCurrent delivers a smart energy transition and infrastructure roadmap that aligns asset deployments to performance risks and operating mandates – thus optimizing cost, calendar and carbon goals over the coming decade by integrating on-site, off-site and mobile energy solutions into one nationwide network of virtual and physical power plants.
"We are thrilled to work with such a forward-thinking – and acting – company such as US Foods, whose vision to decarbonize and modernize will no doubt be something the entire industry will come to emulate," says Chase Weir, CEO of DSUN and truCurrent. "Meeting formal GHG emissions goals requires a deep understanding of energy technologies, policy and regulatory frameworks and the grid operators' landscape – this is the kind of work we love to do to help our customers achieve their goals."
DSUN began working with US Foods in 2013 to support solar installations at the company's Albuquerque, New Mexico, facility. Today, US Foods has active solar installation deployments and storage at 10 of its distribution facilities and is pursuing another nine sites identified for 2024 solar installation deployments.